Squid stuffed with cream of saffron potatoes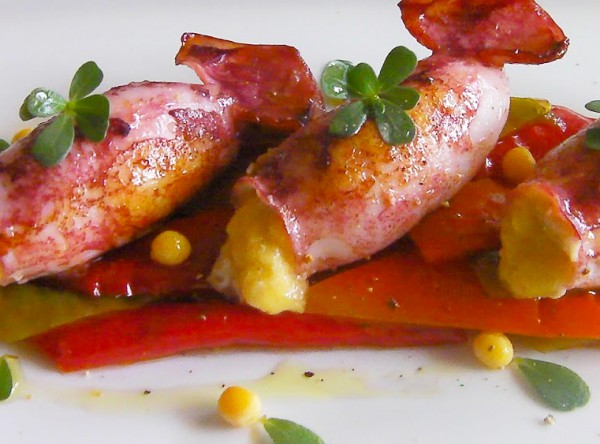 Ingredients:
For 2 people
500 gr. cleaned squid
2 eggs
4 slices white bread
marjoram
30 gr. grated Parmesan cheese
garlic and parsley
4 anchovy fillets in oil
Vinchef
extra virgin olive oil
8 cherry tomatoes
For the cream:
2 potatoes
vegetable broth
Zafferano Collina d'Oro (4 threads)
1 small leek
extra virgin olive
Preparation:
Finely chop the tentacles and anchovies with a knife. Brown in a skillet with a little olive oil with a clove of garlic, chopped anchovies, add the tentacles and cook;
Deglaze with Vinchef, evaporate and add the bread soaked in milk and squeezed for a few minutes. Let cool;
Add the eggs and grated cheese; 3/4 fill the squid and close with a toothpick;
Boil the potato slices in vegetable broth, drain and set aside. Brown a finely sliced leek in a little oil, add the potatoes and cook a few minutes;
Mix all, adding broth and half a bag of saffron until it becomes creamy. Season with salt and pepper;
Fry the squid in a pan with two cloves of garlic, deglaze with the wine, reduce heat and simmer covered for 10 minutes. Add the chopped parsley and put out the fire;
Serve doing a mirror of saffron cream, place the squid at the center and garnish with diced cherry tomatoes and a dribble of oil.
Recipes you might be interested in: