Patties Jerusalem artichokes and saffron sauce with peas and red onion sauce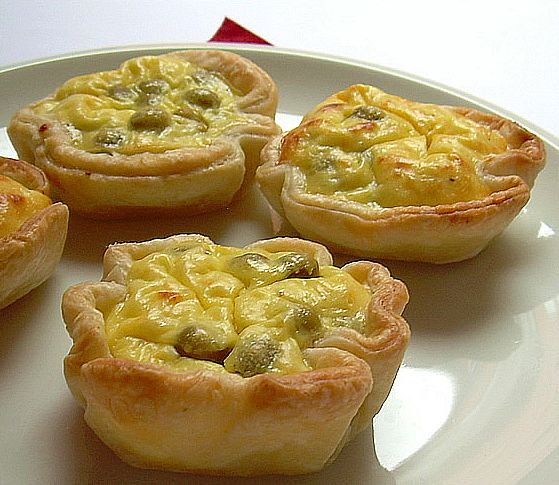 Ingredients:
For 4 people
For the patties:
260g of Jerusalem artichoke
2 rolls of pasta brisé
200g ricotta
2 eggs
2 tablespoons extra virgin olive oil
2 tablespoons cream
1+ 1/2 tablespoon flour
Zafferano Collina d'Oro (4 threads)
Salt
For the sauce with peas:
1 cup fresh or frozen peas
60 g of Philadelphia
20 black olives
Oil
For the sauce, spring onion:
2 red onions Tuscan
20 g of Philadelphia
1 handful of pine nuts
2 tablespoons cream
1 slice of apple (small)
1 tablespoon extra virgin olive oil
Preparation:
Peel, wash and boil the artichokes; do then stir-fry with oil, and once the purée is cool put all in a mixer with cream;
Cover the muffin molds with parchment paper and place the dough brisé that have been cut;
Prick the bottom and refrigerate until use;
Prepare a mixture made with ricotta cheese, beaten eggs, flour, saffron and salt. Incorporate then the mashed Jerusalem artichoke;
Pour the mixture into molds for the patties and place in preheated oven at 180 for 25-30 minutes;
Turn out the pies when they are lukewarm;
Meanwhile, prepare the sauce: Boil separately peas and onions and let cool;
Pass to the mixer the peas with philadelphia and oil, add chopped olives then mix well. The first sauce is ready;
When the onions are also cold passed them to the mixer by adding cream, cheese, chopped pine nuts, pepper, olive oil and apple pieces. The spring onion sauce is ready!
Recipes you might be interested in: