Puff Pastry of courgette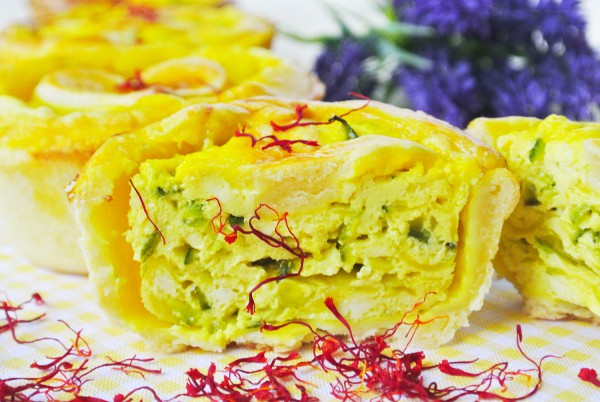 Ingredients:
For 6 people
800g zucchini
2 eggs
100g of milk
70g flour
20g butter, melted and cooled
11g baking powder
10g of salt
Zafferano Collina d'Oro (4 threads)
freshly grated Parmesan cheese
---
Preparation:
Reduce saffron threads in a mortar and mix them with warm milk. Leave them in infusion.
Sift together flour and baking powder and then add salt.
Meanwhile, beat the eggs in a bowl. Add the melted butter first, then milk flavored with saffron and mix.
Slowly add the mixture of flour.
Preheat oven to 200° C.
Cut zucchini into thin slices and dip them in the cream you have just prepared.
Pour the butter and and flour (20×20) and shake lightly to flatten the zucchini, then sprinkle with grated Parmesan cheese and bake at 200° C for 40 minutes.
Allow to cool completely before serving and present the pastry preferably warm.
Recipes you might be interested in: